Rotary and Bill Gates End Polio Committment
Rotary, the World Health Organization, UNICEF and the Centers for Disease Control and Prevention launched the Global Polio Eradication Initiative in 1988. In 2007, the Bill & Melinda Gates Foundation joined Rotary in its commitment to ending polio.
In June 2017, Rotary and the Bill & Melinda Gates Foundation renewed their longstanding support for ending polio.
Rotary committed to raise $50 million per year over the next three years, with every dollar to be matched with two additional dollars from the Gates Foundation. This expanded agreement will translate into $450 million for polio eradication activities, including immunization and surveillance over the next three years. This critical funding helps ensure countries around the world remain polio-free and that polio is ended in the remaining three endemic countries: Afghanistan, Nigeria, and Pakistan.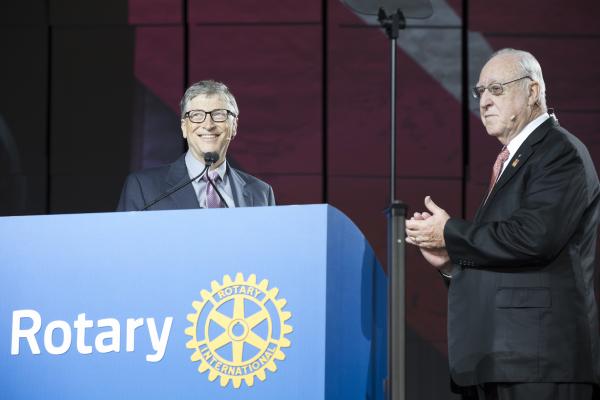 "The vision of eradicating polio began with Rotary, and its support of that effort has been unwavering for more than 35 years," said Gates. "Rotary's commitment to raise $150 million over the next three years to end polio forever is a testament to the compassion, generosity, and kindness of more than a million Rotarians around the world."