As part of the first generation to grow up in Japan after World War II, RI President 2012-13 Sakuji Tanaka, understood the importance of peace and its connection to our well-being.
"Through Rotary, I learned the purpose of my life wasn't to earn more, but to help others. I also learned that through Rotary, we could build peace".
Tanaka's theme was Peace Through Service, which emphasized peace as one of the Rotary's major avenues of service. During his year, he held Rotary Global Peace Forums in Berlin, Honolulu and Hiroshima. Tanaka selected all three sites because they were affected by the events of World War II and now represent the healing power of sustainable peace between nations.
"Every Rotary project, every act of service, is an act of love and kindness," Tanaka said. "When we serve in the right ways, and for the right reasons, we bring people together, in peace and in harmony. How could it be otherwise?"
He also challenged each district to hold their own peace forums to discuss and debate regional peace issues. Our District 5040 held a forum chaired by Past District Governor Chris Offer. Local topics were juvenile bullying and gang violence. International Issues were polio eradication, the reconstruction of Afghanistan, support for the Rotary Peace Centers, and the role of Rotary as peacemaker.
Peace and Conflict Resolution is one of Rotary's seven areas of focus, From a pre-World War I resolution calling for "the maintenance of peace" to our continuing support for Rotary Peace Centers, Rotary and its members have a long history of promoting peace and working to address the underlying causes of conflict in communities around the world.
Read more...
.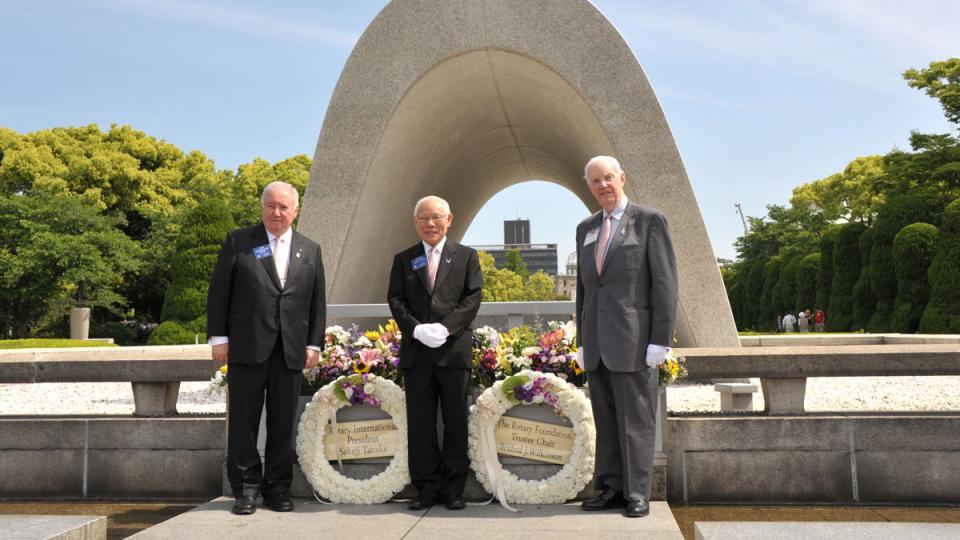 May 17, 2013 Laying a wreath in Hiroshima Memorial Park, dedicated to the victims of the atomic bomb dropped on the city during World War II